Red Dolphin Publishing is dedicated to publishing books about the sailing adventures of James and Pamela Duvall. As of February 2011 we have published two books.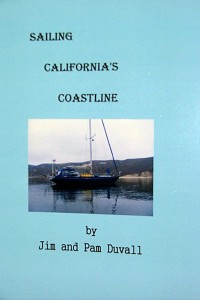 Sailing California's Coastline (2009)
ISBN 978-0-615-33705-0
by Jim and Pam Duvall
Sailing California's Coastline details the adventures of the authors as they sailed from Richmond, California to Catalina Island with many, many, ports of call on the way. For four-and-one-half months they cruised the central and southern coast of California looking for excitement and enjoying the wonderful natural environment of the golden state. While doing so they entered many of California's ports, sailed to almost every island in the Channel Islands, and visited many anchorages. This book answers the questions that so many have asked of them. Namely, how do we safely travel in this rugged, seaborn world?
Each chapter chronicles one leg of their journey. In each chapter, not only do they describe their experiences but include many items useful to the cruiser. The authors review the services available at each port,  transportation, entertainment and shopping, restaurants, and even natural features. Phone numbers and addresses are included. This is a all-inclusive guide for the cruiser or cruising family.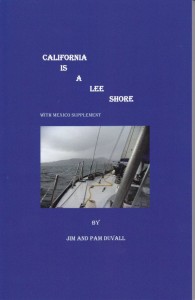 California is a Lee Shore with Mexico Supplement (2011)
ISBN: 978-0-9727824-2-5
by Jim and Pam Duvall
California is a Lee Shore with Mexico Supplement is an expansion of Sailing California's Coastline. More ports are included, with most of southern California being reviewed here. Color photography and maps are included in this text with the same easy-to-read style throughout. Finally a 3-month journey to Baja, California, with a final stop in Mazatlan on the MexicanRiviera is detailed with many helpful hints for the first-time Mexican cruisers.
How To Order
Whale Point Marine and Hardware
205 Cutting Boulevard
Richmond, CA 94804
Phone: (510) 233-1988
FAX: (510) 233-1989
Email: WhalePoint@acehardware.com
Sailing California's Coastline
Price: $12.95 + shipping and handling of $4.00. Include local sales tax of $1.26.
California is a Lee Shore with Mexico Supplement
Price: $22.95 + shipping and handling of $4.00. Include local sales tax of $2.24